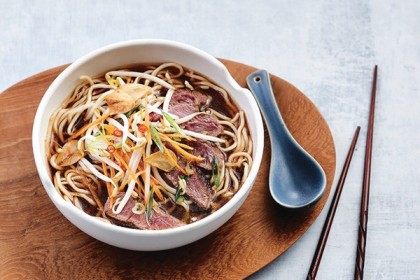 This Asian Beef & Ginger Soup is a really tasty soup! This tasty Asian beef & ginger soup is super healthy, full of flavor, and ready in just 30 minutes!
Ingredients
4 teaspoons vegetable oil , divided
1 sirloin steak (about 375 g)
3 green onions , white and green parts chopped and separated
1 cloves garlic , minced
3 tablespoons grated fresh ginger
4 cups sodium-reduced beef broth
1/3 cup hoisin sauce
2 tablespoons sodium-reduced soy sauce
8 oz ramen noodles
1 cup bean sprouts
1 carrot , julienned
4 teaspoons Fried garlic (recipe, on right)
1 Thai bird's-eye pepper , seeded and chopped (optional)
Directions
In skillet, heat 2 tsp of the oil over medium-high heat; cook steak, turning once, until cooked as desired, about 6 minutes for medium-well. Transfer to cutting board; tent with foil and let stand for 10 minutes. Slice steak against the grain.
Meanwhile, in large saucepan, heat remaining oil over medium heat; cook white parts of green onions and garlic until onion has softened, 2 to 3 minutes. Add ginger; cook, stirring, for 1 minute. Add broth, 4 cups water, hoisin and soy sauces; bring to boil. Reduce heat; simmer for 5 minutes.
Meanwhile, in pot of boiling salted water, cook noodles for 3 minutes; drain and divide among bowls. Top with broth. Arrange steak, bean sprouts and carrot over top. Sprinkle with remaining green onions, Fried Garlic and chili pepper (if using).
Fried Garlic
Separate cloves from 1 head of garlic; slice thinly. In small skillet, heat 1/3 cup vegetable oil over medium-high heat; cook sliced garlic until just starting to brown, about 2 minutes. Using slotted spoon, transfer to paper towel-lined plate. (Make ahead: Garlic can be stored at room temperature for up to 5 days. Filtered garlic cooking oil can be stored for up to 1 month at room temperature.)
NUTRITIONAL FACTS
Per serving: about:
Saturated fat2 g, Cholesterol55 mg, Sodium950 mg, Total carbohydrate68 g, Fibre3 g, Sugars10 g, Protein32 g, Iron3 mg.
Lifestyles Advisor is Health And Lifestyle Magazine. Our main Focus on to Ensure Healthy lifestyle for All Human Being.