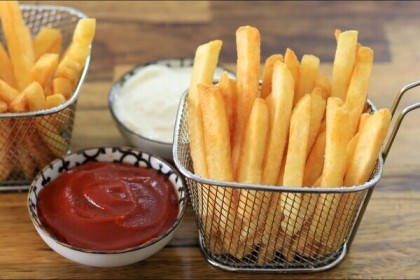 French Fries! Oven baked, perfectly golden and crisp and deliciously fluffy and tender inside. Just the way the best French fries should be and without the extra fat from deep frying. The first frying in done at a lower temperature, which softens the potato and prepares the starchy surface for the second frying's crispification.
Ingredients
1 russet potato, cut into evenly sized strips
1 quart vegetable oil for frying
salt to taste
Directions
Step 1
Soak potatoes in a large bowl of water for about 30 minutes. Pat dry thoroughly with paper towels.
Step 2
Heat oil in a deep-fryer or large saucepan to 275 degrees F (135 degrees C). Gently add the potatoes in the hot oil for about 5 minutes, stirring and flipping the potatoes occasionally. Remove potatoes from oil with a slotted spoon to drain on paper towel and to cool completely.
Step 3
Heat oil in a deep-fryer or large saucepan to 350 degrees F (175 degrees C). Fry the potatoes again until golden brown, 5 to 6 minutes. Blot with a paper towel. Sprinkle with salt to serve.
Nutrition Facts
Per Serving:
471 calories; protein 2.2g; carbohydrates 18.6g; fat 44.1g; sodium 6.4mg. 
Lifestyles Advisor is Health And Lifestyle Magazine. Our main Focus on to Ensure Healthy lifestyle for All Human Being.