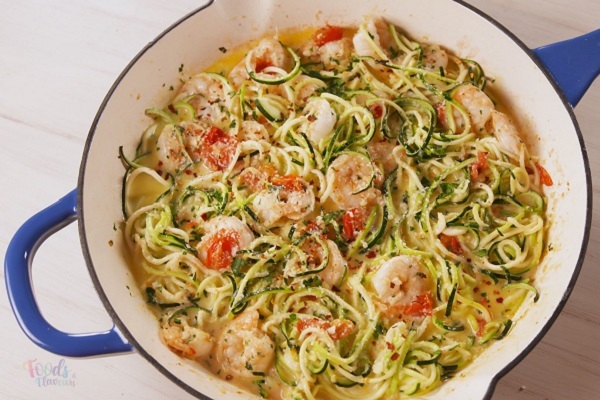 Super skinny, super low carb Garlic shrimp with zucchini noodles recipe! Made in less than 30 minutes! It's so flavorful, healthy and yummy. This flavor-packed Garlic shrimp with zucchini noodles dish is healthy, keto and low-carb and makes a delicious protein packed meal in minutes.
Ingredients
4 large zucchinis , spiralized
salt
2 tablespoons olive oil
1 tablespoon salted butter
3 cloves garlic , minced
450 g large shrimp , shelled and deveined
1/3 cup chopped fresh parsley
2 tablespoons lemon juice
hot pepper flakes (optional)
lemon wedges
Directions
Place zucchini noodles in colander set over bowl. Season with salt; let stand for 10 minutes.
Meanwhile, in skillet, heat oil and butter over medium-high heat; cook garlic, stirring, for 30 seconds. Add shrimp; cook, stirring occasionally, until shrimp are pink (turn halfway through cooking), 2 to 3 minutes. Stir in parsley. Using slotted spoon, transfer shrimp to plate. Set aside.
Add zucchini noodles to skillet; cook, stirring occasionally, until golden, about 2 minutes. Return shrimp to skillet; cook for 1 minute. Remove from heat; drizzle with lemon juice; sprinkle with hot pepper flakes (if using). Serve immediately with lemon wedges.
NUTRITIONAL FACTS
Per serving: about
Iron2 mg, Fibre3 g, Sodium250 mg, Sugars8 g, Protein27 g, Calories210, Total fat6 g, Cholesterol205 mg, Saturated fat2 g, Total carbohydrate12 g
Lifestyles Advisor is Health And Lifestyle Magazine. Our main Focus on to Ensure Healthy lifestyle for All Human Being.