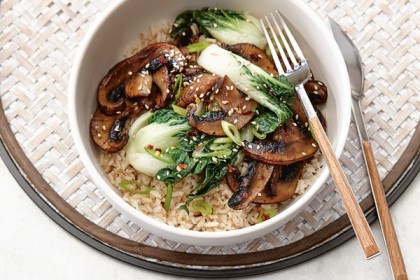 These meatless Mushroom Teriyaki Bowls are sweet and salty. These savory, Mushroom Teriyaki Bowls with rice are a quick and easy vegetarian weeknight dinner. They're light, healthy and filling, plus one-pan!
INGREDIENTS
1/4 cup sodium-reduced soy sauce
2 tablespoons rice vinegar
2 tablespoons Canadian pure maple syrup
2 cloves garlic, minced
2 teaspoons grated fresh ginger
4 teaspoons sesame oil , divided
6 portobello mushrooms , sliced
8 baby bok choy , halved lengthwise
4 cups cooked brown rice , heated
2 green onions , sliced
1 tablespoon sesame seeds , toasted
hot pepper flakes (optional)
Directions
In small saucepan, combine soy sauce, vinegar, maple syrup, garlic and ginger. Bring to boil; reduce heat and simmer until sauce has thickened, 6 to 8 minutes.
Meanwhile, in large skillet, heat 3 tsp of the sesame oil over high heat; cook mushrooms, stirring occasionally, until liquid has evaporated and mushrooms begin to brown, about 5 minutes. Pour in teriyaki sauce; cook until mushrooms are well coated and golden, about 3 minutes. Transfer mushrooms to plate; keep warm.
In same skillet, heat remaining oil over medium heat; cook bok choy, stirring occasionally, until softened, about 3 minutes.
To serve, divide rice among bowls. Top with reserved mushrooms and bok choy. Sprinkle with green onions, sesame seeds, and hot pepper flakes.
NUTRITIONAL FACTS
PER SERVING: about
Calories370, Total fat8 g, saturated fat1 g, Cholesterol0 mg, Sodium750 mg, Total carbohydrate63 g, Fibre6 g, Sugars10 g, Protein11 g, Iron2.5 mg
Lifestyles Advisor is Health And Lifestyle Magazine. Our main Focus on to Ensure Healthy lifestyle for All Human Being.