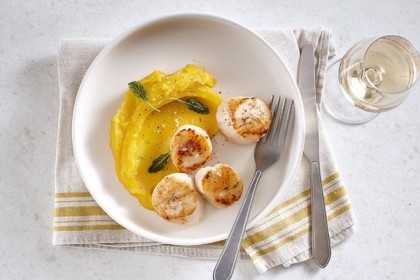 Pan-Fried Scallops With Citrus Squash Puree is amazing food item. Serve up a restaurant-style starter at home – much of it can be made ahead so you can relax with a glass of wine on the night. Pan-Fried Scallops With Citrus Squash Puree is easy to cook, but tasty.
INGREDIENTS
2 tablespoons olive oil
1 small onion , chopped
1 clove of garlic , minced
6 cups cubed, peeled butternut squash
1/2 cup sodium-reduced chicken broth
4 fresh sage leaves
500 g large scallops (about 16), patted dry
1 tablespoon grated orange zest
salt and pepper
2 tablespoons pine nuts , toasted and coarsely chopped (optional)
Directions
In large saucepan, heat 1 tbsp of the oil over medium heat; cook onion and garlic, stirring occasionally, until softened, about 5 minutes. Add squash and broth; bring to boil. Reduce heat; cover and simmer until squash is tender, about 10 minutes.
Meanwhile, in large skillet, heat remaining oil over medium-high heat; cook sage leaves until crisp, about 30 seconds. Transfer to paper towel-lined plate; set aside. In same pan, cook scallops, turning once, until golden and opaque, about 4 minutes. Keep warm.
In food processor or blender, purée squash mixture. Mix in orange zest. Season with salt and pepper. Divide squash purée among plates. Serve with reserved scallops. Sprinkle with pepper; garnish with sage leaves. Sprinkle with pine nuts (if using).
NUTRITIONAL FACTS
PER SERVING: about
Iron2 mg, Fibre5 g, Sodium550 mg, Sugars6 g, Protein17 g, Calories260, Total fat8 g, Cholesterol30 mg, Saturated fat1 g, Total carbohydrate30 g.
Lifestyles Advisor is Health And Lifestyle Magazine. Our main Focus on to Ensure Healthy lifestyle for All Human Being.