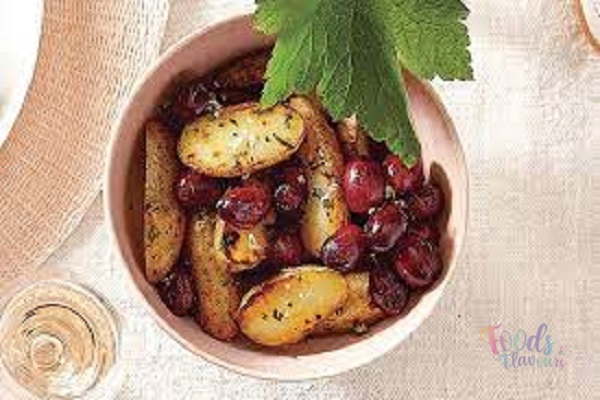 The wonderful greek flavor of Roasted potatoes & grapes rosemary recipe. And grapes make these roasted potatoes a special dish. A perfect side dish for just about anything. This Roasted potatoes & grapes rosemary is a easy recipe that can be on the table in few minutes
Ingredients
1 1/2 lb fingerling potatoes or baby potatoes, halved
2 cups red grapes
1 tablespoon olive oil
3 tablespoons chopped fresh rosemary leaves
coarse salt and peppe
Directions
Preheat oven to 400°F. Place potatoes and grapes on foil-lined baking sheet; drizzle with olive oil. Sprinkle with rosemary. Season with salt and pepper; mix well. Spread evenly in single layer; bake, stirring halfway through, until potatoes are tender and golden, 20 to 25 minutes.
NUTRITIONAL FACTS
Per serving: about
Iron2 mg, Fibre5 g, Sodium150 mg, Sugars13 g, Protein4 g, Calories210, Total fat2 g, Cholesterol0 mg, Total carbohydrate44 g
Lifestyles Advisor is Health And Lifestyle Magazine. Our main Focus on to Ensure Healthy lifestyle for All Human Being.