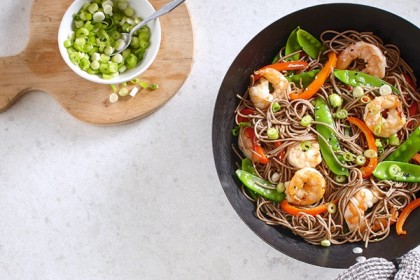 Soba Noodles With Ginger-Sesame Shrimp recipe is and easy and quick! Shrimp marinated in a ginger sesame garlic soy sauce marinade, then quickly stir-fried. Ready in less time than it takes to order take-out, you will love this fast and easy Soba Noodles With Ginger-Sesame Shrimp bowl served with a fragrant ginger broth.
INGREDIENTS
1 tablespoon sodium-reduced soy sauce
1 tablespoon lime juice
2 teaspoons sesame oil
2 teaspoons toasted sesame seeds
1 teaspoon brown sugar
1/2 teaspoon Sriracha (optional)
8 oz soba noodles
1 tablespoon vegetable oil
1 tablespoon grated fresh ginger
2 cloves garlic, minced
2 cups snow peas , trimmed
1 sweet red pepper , cut into strips
500 g large shrimp , peeled and deveined (31 to 40 count)
3 green onions , sliced
Directions
In small bowl, combine soy sauce, lime juice, sesame oil, sesame seeds, brown sugar and sriracha (if using). Set aside.
In large pot of boiling salted water, cook noodles until tender but still firm, about 5 minutes. Drain and rinse under cold water; drain again. Set aside.
In large deep skillet or wok, heat vegetable oil over medium heat. Add ginger and garlic; cook, stirring occasionally, for 2 minutes. Add snow peas and red pepper; cook for 3 minutes. Add shrimp; cook, stirring, until shrimp are pink and opaque throughout, 2 to 3 minutes. Mix in reserved noodles and sauce; cook for 1 minute. Garnish with green onions.
NUTRITIONAL FACTS
PER SERVING: about
Iron3.5 mg, Fibre2 g, Sodium795 mg, Sugars4 g, Protein35 g, Calories410, Total fat8 g, Cholesterol200 mg, Saturated fat1 g, Total carbohydrate50 g.
Lifestyles Advisor is Health And Lifestyle Magazine. Our main Focus on to Ensure Healthy lifestyle for All Human Being.