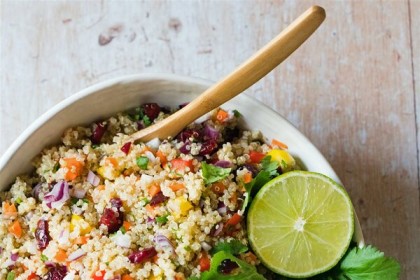 This tasty Cranberry Cilantro Quinoa Salad is super healthy, full of flavor, and ready in just 15 minutes! Cranberry Cilantro Quinoa Salad is a beautiful, healthy & refreshing salad that comes together quickly and keeps well when made in advance.
Ingredients
1 ½ cups water
1 cup uncooked quinoa, rinsed
¼ cup red bell pepper, chopped
¼ cup yellow bell pepper, chopped
1 small red onion, finely chopped
1 ½ teaspoons curry powder
¼ cup chopped fresh cilantro
1 lime, juiced
¼ cup toasted sliced almonds
½ cup minced carrots
½ cup dried cranberries
salt and ground black pepper to taste
Directions
Pour the water into a saucepan, and cover with a lid. Bring to a boil over high heat, then pour in the quinoa, recover, and continue to simmer over low heat until the water has been absorbed, 15 to 20 minutes. Scrape into a mixing bowl, and chill in the refrigerator until cold.
Once cold, stir in the red bell pepper, yellow bell pepper, red onion, curry powder, cilantro, lime juice, sliced almonds, carrots, and cranberries. Season to taste with salt and pepper. Chill before serving.

Nutrition Facts
Per Serving:
176 calories; protein 5.4g; carbohydrates 31.6g; fat 3.9g; sodium 13.1mg. 
Lifestyles Advisor is Health And Lifestyle Magazine. Our main Focus on to Ensure Healthy lifestyle for All Human Being.