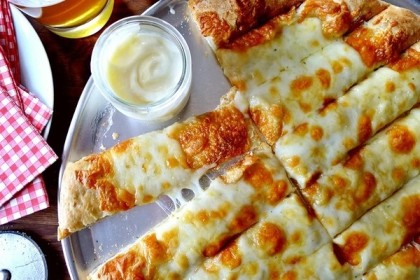 East Coasters, these Homemade Garlic Fingers and Donair Sauce are for you!  Whether you need party food for adults, OR kids, easy snacks for tailgating or Super Bowl, or cheap recipes for entertaining, This Garlic Fingers with Donair Sauce recipe is for you.
Ingredients
Donair Sauce
2/3 cup sweetened condensed milk
1/4 cup white vinegar
1/2 tsp garlic powder
Garlic Fingers
1 500g pkg pizza dough
1 Tbsp garlic butter, melted
2 cups shredded mozzarella cheese
1. Preheat oven to 450°F.
2. Combine sweetened condensed milk with vinegar and garlic powder. Set aside.
3. Dust a 15-inch pizza pan with cornmeal. Turn out dough onto a lightly floured surface. Roll dough into a 14-inch circle. Transfer to pan. Brush garlic butter evenly over dough. Sprinkle with cheese.
4. Bake until cheese and crust are golden brown, about 15 minutes. To serve, cut pie in half, then rotate 90 degrees and cut pie into 2-inch strips. Serve with donair sauce.
Lifestyles Advisor is Health And Lifestyle Magazine. Our main Focus on to Ensure Healthy lifestyle for All Human Being.