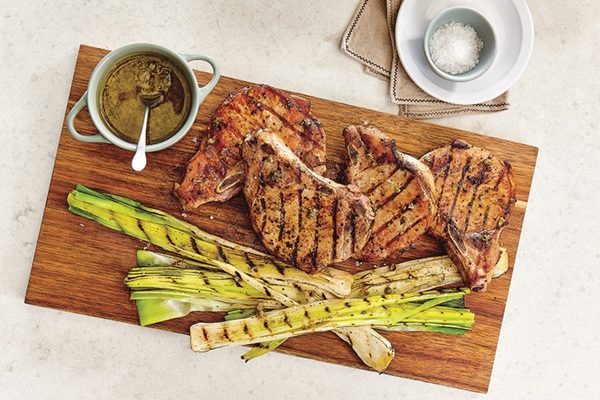 Grilled Pork Chops with Leeks, on the table in 25 minutes. This Grilled Pork Chops is a wonderful delicious food item. It's quick, easy and delicious and nutritious weeknight meal the whole family will enjoy.
Ingredients
3 tablespoons olive oil
1 teaspoon grated lemon zest
2 tablespoons lemon juice
2 tablespoons capers , drained and chopped
2 cloves garlic, minced
salt and pepper
4 bone-in pork chops (1.25 kg total)
2 leeks , white and light green parts only, halved lengthwise
Directions
In small bowl, combine oil, lemon zest and juice, capers and garlic; season with salt and pepper. Place 2 tbsp of marinade in small bowl and brush over pork chops and leeks; let stand for 10 minutes. Reserve remaining marinade.
Set grill to medium-high heat; grease grate well. Grill pork chops with lid closed, turning once, until golden and just hint of pink remains inside, 10 to 12 minutes. Grill leeks alongside until well marked and tender-crisp. Serve pork and leeks with remaining reserved marinade.
NUTRITIONAL FACTS
Per serving: about:
Calories585, Total fat32 g, saturated fat7 g, Cholesterol205 mg, Sodium350 mg, Total carbohydrate8 g, Fibre1 g, Sugars2 g, Protein66 g, Iron3.5 mg.
Lifestyles Advisor is Health And Lifestyle Magazine. Our main Focus on to Ensure Healthy lifestyle for All Human Being.