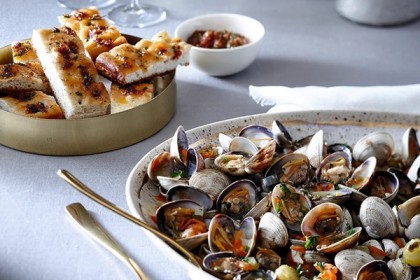 This clams with white wine, tomatoes & capers is a delicious and easy food item which takes little time. This tasty clams with white wine, tomatoes & capers healthy, full of flavor, and ready in just 35 minutes!
Ingredients
1/4 cup salted butter
1 cup chopped onion (1 large)
3 tomatoes , diced
2 cloves garlic , minced
1 cup capers , rinsed and drained
1/2 cup diced celery
3 fresh sprigs thyme
3 cups fish or vegetable broth
1 1/2 cup dry white wine
salt and pepper
1.35 kg fresh little neck clams
Directions
In large deep skillet, melt butter over medium heat until frothy; cook onion, tomatoes and garlic for 1 minute. Add capers, celery and thyme; cook for 1 minute. Add broth and wine; bring to boil.
Reduce heat; simmer for 2 minutes. Season with salt and pepper.
Preheat oven to 400°F. Scrub clams, discarding any with cracked shells or that do not close when tapped. Place clams on baking sheet; drizzle with wine mixture. Cover baking sheet with foil; bake until clams open, 15 to 20 minutes. Discard any clams that do not open. Divide clams among serving plates; drizzle cooking juices over top.
NUTRITIONAL FACTS
PER SERVING: about
Iron2 mg, Fibre3 g, Sodium1000 mg, Sugars4 g, Protein14 g, Calories220, Total fat13 g, Cholesterol30 mg, Saturated fat8 g, Total carbohydrate12 g.
Lifestyles Advisor is Health And Lifestyle Magazine. Our main Focus on to Ensure Healthy lifestyle for All Human Being.