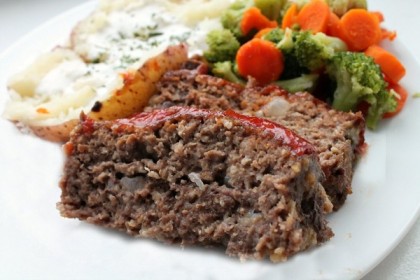 This is a fantastic Meatloaf recipe!! This tasty fantastic Meatloaf recipe is super healthy, full of flavor, and ready in just 1 hr 25minutes!
Ingredients
1 tablespoon butter
¼ cup minced onion
2 cloves garlic, minced
1 ½ teaspoons salt
1 ½ teaspoons freshly ground black pepper
2 pounds extra-lean ground beef
3 slices bread, toasted and crumbled
7 buttery round crackers, crushed
1 egg, lightly beaten
3 ½ tablespoons sour cream
1 ½ tablespoons Worcestershire sauce
1 (15 ounce) can tomato sauce, divided
¼ cup milk (Optional)
3 tablespoons ketchup
Directions
Step 1
Preheat oven to 350 degrees F (175 degrees C).
Step 2
Melt the butter in a skillet over medium heat, and cook the onion and garlic 5 minutes, until onion is tender. Remove from heat, and season with salt and pepper.
Step 3
In a large bowl, mix the onion and garlic, beef, crumbled bread, crushed crackers, egg, sour cream, Worcestershire sauce, and 1/2 can tomato sauce. Gradually stir in the milk 1 teaspoon at a time until mixture is moist, but not soggy. Transfer the mixture to a 5×9 inch loaf pan.
Step 4
Bake uncovered in the preheated oven 40 minutes. Increase oven temperature to 400 degrees F (200 degrees C), and continue baking 15 minutes, to an internal temperature of 160 degrees F (70 degrees C).
Step 5
In a small bowl, mix the remaining tomato sauce and ketchup. Pour over the top of the meatloaf, and continue baking 10 minutes.
Nutrition Facts
Per Serving:
213 calories; protein 17.9g; carbohydrates 8.7g; fat 11.6g; cholesterol 76.1mg; sodium 648.6mg. 
Lifestyles Advisor is Health And Lifestyle Magazine. Our main Focus on to Ensure Healthy lifestyle for All Human Being.