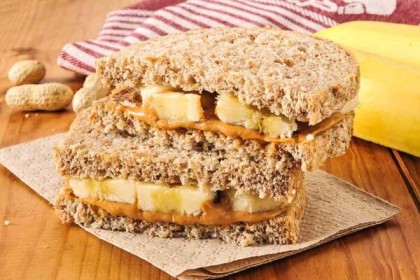 Grilled Peanut Butter and Banana Sandwich is a sweet, warm, tasty, breakfast idea. Cooked like a grilled cheese, but filled with melted peanut butter and warm bananas. You can whip up this easy Grilled Peanut Butter Banana Sandwich in just a few minutes, and even your pickiest eaters will approve! This fun, kid-friendly indulgence was a hit at taste testing and received our highest rating. The recipe can easily be multiplied to make as many sandwiches as you need.
Ingredients
Cooking spray
2 tablespoons peanut butter
2 slices whole wheat bread
1 banana, sliced
Directions
Step 1
Heat a skillet or griddle over medium heat, and coat with cooking spray. Spread 1 tablespoon of peanut butter onto one side of each slice of bread. Place banana slices onto the peanut buttered side of one slice, top with the other slice and press together firmly. Fry the sandwich until golden brown on each side, about 2 minutes per side.
Nutrition Facts
Per Serving:
437 calories; protein 16.8g; carbohydrates 56.8g; fat 18.7g; sodium 422.3mg. 
Lifestyles Advisor is Health And Lifestyle Magazine. Our main Focus on to Ensure Healthy lifestyle for All Human Being.