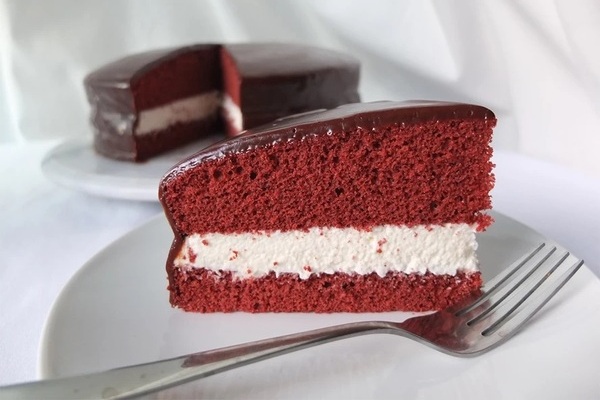 Giant Jos Louis Cake based on one of Canada's most popular treats, this giant red velvet cake sandwich is filled with a creamy marshmallow-y layer with a milk chocolate coating. This Giant Jos Louis Cake recipe, inspired by an iconic Canadian snack, is sure to delight both kids and adults with its delicious and nostalgic flavor.
Ingredients
1 box red velvet cake mix, baked as instructed in two 9-ince cake pans
½ cup unsalted butter
1 ½ cups icing sugar
½ cup whipping cream
2 jars marshmallow creme (198g jars)
1 ⅓ cup milk chocolate chips
⅓ cup whipping cream (for chocolate glaze)
Directions:
1. Use a serrated knife to cut the domed top off one of the 9-in. round cakes. Place cake on a platter. Leave the second cake as is.
2. To make icing, beat whipping cream in a large bowl with an electric mixer until stiff peaks form, 2 to 3 min. Beat in butter and icing sugar until very stiff, 1 to 2 min. Fold in marshmallow creme until just combined (icing should not be runny.)
3. Spread marshmallow icing over cake layer on platter to the edges. Top with second cake layer.
4. Place cake in freezer for 10 minutes.
5. To make glaze, microwave chocolate chips and whipping cream for 30 seconds. Stir until chocolate is melted. Let the chocolate cool slightly.
6. Pour glaze over top of cake. Use a metal spatula to spread the glaze over top and sides of cake. If chocolate pools at the bottom of the cake, use your spatula to scrape off excess chocolate.
7. Refrigerate cake for 1 hour or overnight.
Lifestyles Advisor is Health And Lifestyle Magazine. Our main Focus on to Ensure Healthy lifestyle for All Human Being.