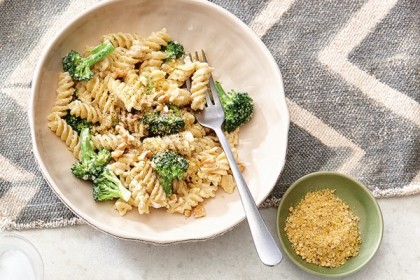 Lemon & tahini Rotini is the perfect quick and simple weeknight meal! Packed with flavor this simple, healthy Lemon & Tahini Rotini recipe has less than 12 ingredients and is ready in under 25 minutes.
INGREDIENTS
375 g rotini
2 cups small broccoli florets
2 teaspoons olive oil
2 shallots , chopped
3 cloves garlic, minced
1/2 cup tahini
2 teaspoons lemon zest
3 tablespoons lemon juice
salt and pepper
2 tablespoons coarsely chopped walnuts , toasted
Directions
In large pot of boiling salted water, cook pasta for 5 minutes. Add broccoli; cook until pasta is al dente, 3 to 5 minutes. Reserving 1/2 cup of cooking liquid, drain well.
Meanwhile, in large deep skillet, heat oil over medium heat; cook shallots, stirring occasionally, until tender, about 5 minutes. Add garlic; cook, stirring often, for 2 minutes. Mix in reserved cooking liquid, tahini, lemon zest and juice until smooth. Season with salt and pepper.
Add pasta and broccoli to skillet; mix gently to coat well. Divide pasta among plates; garnish with sprinkle of walnuts and Vegan Parmesan.
NUTRITIONAL FACTS
PER SERVING: about
Calories620
Total fat23 g
Saturated fat3 g, Cholesterol0 mg, Sodium 250 mg, Total carbohydrate83 g, Fibre8 g, sugars4 g, Protein20 g, Iron6 mg
Lifestyles Advisor is Health And Lifestyle Magazine. Our main Focus on to Ensure Healthy lifestyle for All Human Being.