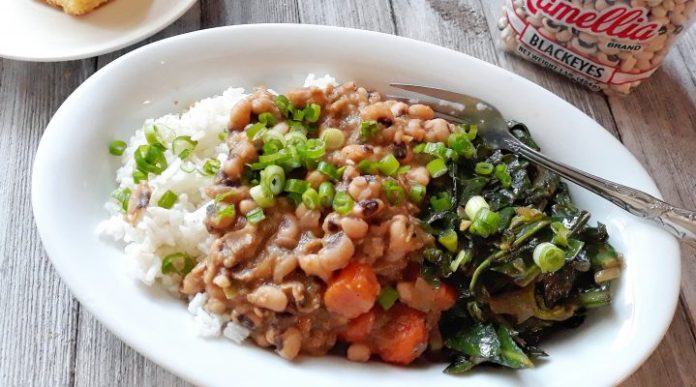 Black-Eyed Peas and rice is dish made with smoked meat, with onions, and peppers. Traditionally black-eyed peas are served on New Year's Day with collard greens and cornbread.
Ingredients
1 cup dried black-eyed peas
1 tablespoon olive oil
1 cup lean diced ham
1 onion, chopped
½ cup chopped green bell pepper
1 clove garlic, minced
2 cups water
2 bay leaves
2 pinches paprika, or more to taste
salt and ground black pepper to taste
3 cups cooked rice
Some sort of smoked meat was used to flavor the dish.
Directions
Step 1
Place black-eyed peas into a large container and cover with several inches of cool water; let stand 8 hours to overnight. Drain and rinse.
Step 2
Heat olive oil in a pot over medium heat; cook and stir ham until browned, about 5 minutes. Add onion, green bell pepper, and garlic; saute until onion is tender, about 10 minutes. Add black-eyed peas, water, bay leaves, paprika, salt, and black pepper; cover pot with a lid and simmer until peas are tender, 40 to 50 minutes.
Step 3
Remove bay leaves from black-eyed peas mixture and stir in rice. Simmer until all the liquid is evaporated, 5 to 10 more minutes.
Nutrition Facts
Per Serving:
274 calories; protein 12.6g; carbohydrates 41.7g; fat 6.4g; cholesterol 10.6mg; sodium 277.5mg. 
Lifestyles Advisor is Health And Lifestyle Magazine. Our main Focus on to Ensure Healthy lifestyle for All Human Being.