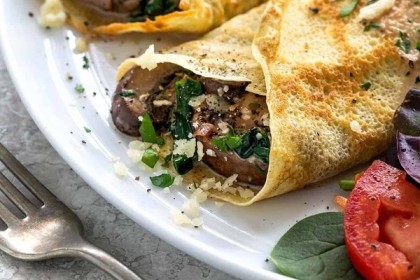 This savory mushroom crepe recipe is the perfect option for brunch or a light lunch.This tasty Savory mushroom crepe recipe is super healthy, full of flavor and ready in just few minute.
INGREDIENTS:
1 1/2 cups plain flour
2 cups milk
1 egg
40g butter, melted
1 tablespoon olive oil
400g button mushrooms, sliced
200g Swiss brown mushrooms, sliced
4 green onions, thinly sliced
1 tablespoon Worcestershire sauce
2 cups grated tasty cheese
Select all ingredients
DIRECTIONS:
Step 1
Process flour, milk and egg in a food processor until smooth. Pour into a jug. Heat a frying pan over medium heat. Lightly grease with butter.
Pour 1/4 cup of batter into hot pan. Tilt to cover base with mixture. Cook for 2 minutes or until underside is golden. Turn. Cook for 1 minute. Remove to a plate. Repeat with remaining batter.
Preheat oven to 200°C. Heat oil in a frying pan over high heat. Add mushrooms. Cook, stirring, for 5 minutes or until liquid has evaporated. Add onions and sauce. Cook for 1 minute. Season.
Spoon mushroom mixture onto crepes. Top each with 1 tablespoon cheese. Roll crepes. Place into an ovenproof dish.
Sprinkle crepes with remaining cheese. Bake for 15 minutes or until hot.
Lifestyles Advisor is Health And Lifestyle Magazine. Our main Focus on to Ensure Healthy lifestyle for All Human Being.