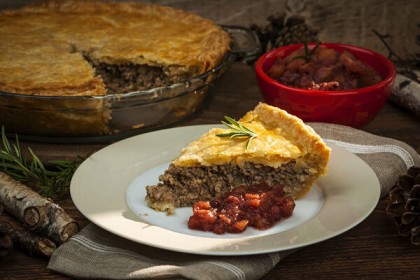 This French Canadian Tourtiere is hearty, satisfying, and easy to make so it's a great choice for a holiday main course. Visually impressive, relatively affordable, and best served at room temperature, so a tourtiere doesn't require any kind of precise timing. Traditional French Canadian Tourtiere Recipe (meat pie), served on Reveillon (Christmas Eve).
Ingredients
½ pound lean ground beef
1 onion, diced
1 clove garlic, minced
½ cup water
1 ½ teaspoons salt
½ teaspoon dried thyme, crushed
¼ teaspoon ground sage
¼ teaspoon ground black pepper
⅛ teaspoon ground cloves
1 recipe pastry for a 9 inch double crust pie
Nutrition Facts
Per Serving:
405 calories; protein 18.4g; carbohydrates 22.1g; fat 26.6g; cholesterol 55.3mg; sodium 748.9mg. 
Lifestyles Advisor is Health And Lifestyle Magazine. Our main Focus on to Ensure Healthy lifestyle for All Human Being.