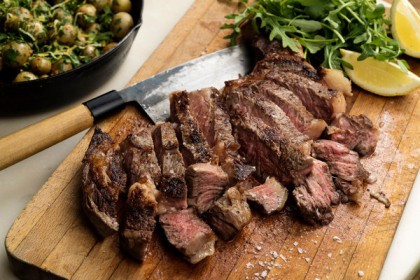 A ribeya steak is a beef steak sliced from the rib primal of a beef animal, with rib bone attached. This Ribeya Steak Recipe is considered a more flavorful cut than other steaks, such as the fillet, due to the muscle being exercised by the animal during its life.
INGREDIENTS
temperature
Kosher salt and freshly ground black pepper, to taste
1 tablespoon canola oil
3 tablespoons unsalted butter
3 cloves garlic, smashed
3 sprigs fresh thyme
2 sprigs fresh rosemary
DIRECTIONS:
Using paper towels, pat both sides of the steak dry; season generously with 1 1/4 teaspoons salt and 1/2 teaspoon pepper.
Heat a medium cast iron skillet over medium high heat until very hot, about 1-2 minutes; add canola oil.
Place the steak in the middle of the skillet and cook, turning every 2-3 minutes, until a dark crust has formed on both sides, about 12-14 minutes.
Reduce heat to medium low. Push steak to one side of the skillet; add butter, garlic, thyme and rosemary to
Working carefully, spoon butter over steak for 1-2 minutes, turning over once, until it reaches an internal temperature of 120 degrees F for medium rare, or until desired doneness. Let rest 15 minutes before slicing. Serve immediately.
Lifestyles Advisor is Health And Lifestyle Magazine. Our main Focus on to Ensure Healthy lifestyle for All Human Being.