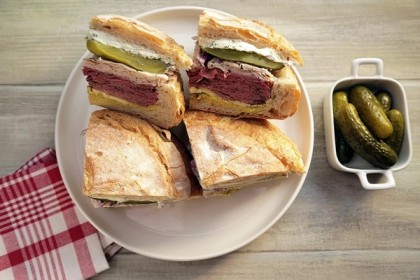 This epic sandwich is a Montreal-style riff on the classic Italian version, traditionally called a Montreal Muffulette Sandwich .Look for a flavourful white cheese made in Quebec for the most authentic Montreal Muffulette Sandwich experience!
Ingredients
⅓ cup chopped dill pickles
⅓ cup chopped pickled pepperoncini peppers
1 Tbsp olive oil
1 large sourdough boule (600 g)
1 Tbsp spicy deli-style mustard
4 slices semi-soft cheese
400 g thinly sliced Montreal-style smoked meat
200 g thinly sliced deli smoked turkey breast
⅔ cup thinly sliced red onion
3 whole pickles, sliced in half
250 mg cream cheese
2 Tbsp chopped fresh dill
Directions:
1. Whirl together pickles, peppers and oil in food processor until almost smooth.
2. Cut top third off boule horizontally. Hollow out the bottom of the bread, leaving generous ½-inch (1 cm) border to form large bread bowl and lid. Spread bottom of bread bowl with spicy mustard; top with pickle mixture.
3. Layer in cheese, Montreal smoked meat and smoked turkey. Top meat with onions and halved pickles. Spread inside of top of bread with cream cheese; sprinkle with dill.Top with the hollowed out bread top, cream cheese side down. (Tip: Wrap sandwich tightly with plastic wrap. Press sandwich between two large plates; weight top plate down with can. Refrigerate for up to 2 hours.)
4. Cut into wedges to serve.
Lifestyles Advisor is Health And Lifestyle Magazine. Our main Focus on to Ensure Healthy lifestyle for All Human Being.