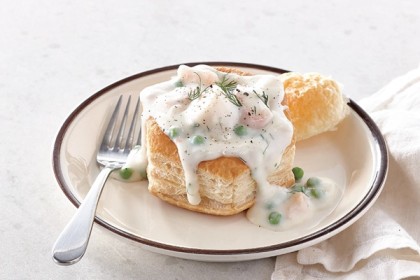 Looking for the perfect holiday meal? Why not try something different other than chicken or beef – surprise the family with this savory quick seafood vol-au-vent this year! This quick seafood vol-au-vent is vastly different taste.
Ingredients
1/4 cup salted butter
1 small onion , chopped
1/4 cup alI-purpose flour
3 cups 1% milk
salt and pepper
250 g frozen shrimp , thawed and drained
250 g frozen scallops , thawed and drained
3/4 cups frozen peas
2 tablespoons chopped fresh dill (approx)
1 tablespoon lemon juice
6 frozen puff pastry shells, thawed
In saucepan, melt butter over medium heat; cook onion, stirring often, for 3 minutes. Add flour; cook for 1 minute, stirring constantly.
Gradually whisk in milk; bring to boil, whisking constantly. Reduce heat; simmer, whisking often, until thickened slightly, 5 to 7 minutes. Season with salt and pepper.
Preheat oven to 325°F. Stir shrimp, scallops and peas into sauce; cook over low heat, stirring occasionally, until shrimp and scallops are cooked through, 3 to 5 minutes. Stir in dill and lemon juice.
Meanwhile, bake pastry shells on baking sheet until golden brown, about 5 minutes. Fill pastry shells with seafood mixture. Garnish with dill and pepper.
Test Kitchen Tip: Cut out small rounds from puff pastry sheets to cap the vol-au-vents, if desired.
NUTRITIONAL FACTS
PER SERVING: about
Iron2 mg, Fibre7 g, Sodium650 mg, Sugars1 g, Protein21 g, Calories410, Total fat22 g, Cholesterol120 mg, Saturated fat13 g, Total carbohydrate32 g
Lifestyles Advisor is Health And Lifestyle Magazine. Our main Focus on to Ensure Healthy lifestyle for All Human Being.