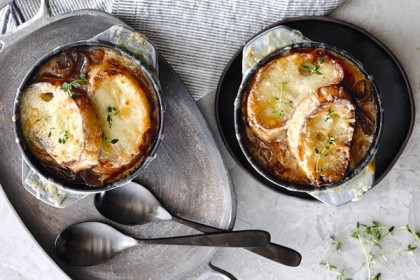 Irish stout onion soup bring a whole other level of depth and flavor to a classic winter comfort meal. There's more comforting on a chilly fall day than a hot bowl of Irish stout onion soup —especially when it's laced with your favorite stout.
Ingredients
2 tablespoons salted butter
4 onions , halved and thinly sliced
1 tablespoon maple syrup
1 tablespoon balsamic vinegar
salt and pepper
1 clove garlic , finely chopped
1 teaspoon chopped fresh thyme
1 tablespoon all-purpose flour
3 cups sodium-reduced beef broth
1 cup Irish stout or dark beer
2 teaspoons Dijon mustard
8 slices baguette bread (3/4-inch thick slices), toasted
1 1/2 cup grated aged Cheddar cheese
Directions
In large saucepan, melt butter over med­ium heat; cook onions, stirring often, until softened, about 10 minutes. Add maple syrup and vinegar; cook, stirring occasionally, until onions are tender and golden, about 10 minutes. Season with salt and pepper. Add garlic and thyme; cook, stirring, for 30 seconds.
Sprinkle flour over onions; mix to coat well. Add broth, beer and mustard, scraping up browned bits from bottom of pan. Bring to boil; reduce heat and simmer for 10 minutes. (Make-ahead: Can be refrigerated for up to 3 days or stored in airtight container and frozen for up to 3 months.)
Preheat broiler. Divide onion soup among ovenproof bowls. Arrange 2 slices of bread in each bowl; top with cheese. Sprinkle with pepper. Bake until cheese is melted and golden, about 2 minutes.
NUTRITIONAL FACTS
PER SERVING: about
Iron1 mg, Fibre3 g, Sodium675 mg, Sugars11 g, Protein16 g, Calories345, Total fat20 g, Cholesterol60 mg, Saturated fat12 g, Total carbohydrate25 g.
Lifestyles Advisor is Health And Lifestyle Magazine. Our main Focus on to Ensure Healthy lifestyle for All Human Being.