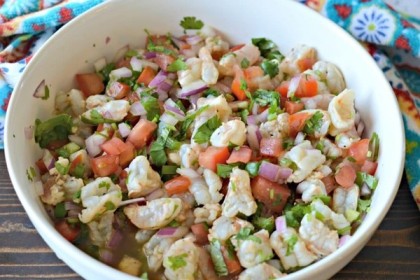 Mexican ceviche recipe is one of the best recipe that you enjoy having in summer. Mexican ceviche recipe is a very quick, yummy and so healthy and so nutritious food item.
Ingredients
5 large lemons, juiced
1 pound jumbo shrimp, peeled and de veined
¼ cup chopped fresh cilantro, or to taste
tomato and clam juice cocktail
2 white onions, finely chopped
1 cucumber, peeled and finely chopped
1 large tomatoes, seeded and chopped
3 fresh jalapeno peppers, seeded and minced
1 bunch radishes, finely diced
2 cloves fresh garlic, minced
tortilla chips
Directions
Step 1
Place shrimp in a bowl (You may either coarsely chop the shrimp, or leave them whole, depending on your preference.) Add lemon, covering shrimp completely. Cover, and refrigerate for 30 minutes, or until opaque and slightly firm.
Step 2
Add tomatoes, onions, cucumber, radishes, and garlic; toss to combine. Gradually add cilantro and jalapenos to desired taste (jalapeno will grow stronger while marinating). Stir in tomato and clam juices to desired consistency. Cover, and refrigerate for 1 hour. Serve chilled with tortilla chips.

Nutrition Facts
Per Serving:
387 calories; protein 17.7g; carbohydrates 57.6g; fat 12.4g; cholesterol 86.3mg; sodium 732.5mg.