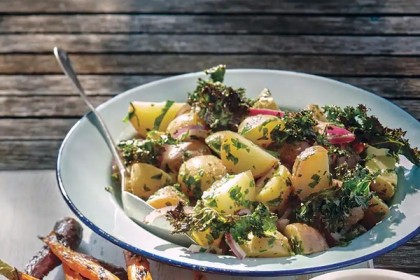 This Baby potato salad with crispy kale is the kind of salad you'll actually crave. This Baby potato salad is got loads of flavour and different textures that take this delicious bowl of goodness to the next level.
Ingredients
1 1/2 lb baby potatoes
1/2 red onion , thinly sliced
5 tablespoons olive oil , divided
2 tablespoons lemon juice
1 tablespoon white balsamic vinegar
1 tablespoon Dijon mustard
4 large kale leaves , stems removed
fleur de sel, pepper, 2 tablespoons capers
1/2 cup chopped fresh parsley
Directions
In large pot of boiling salted water, cook potatoes until tender-crisp, about 15 minutes. Drain and let cool slightly; cut into quarters. Transfer to bowl and set aside. Place onion slices in small bowl; pour in enough cold water to cover. Let stand for 10 minutes; drain well. Add to bowl with potatoes.
In large measuring cup, whisk together 3 tbsp oil, lemon juice, vinegar and mustard; season with fleur de sel and pepper. Pour dressing over potato mixture, tossing gently to coat well. (Make-ahead: Can be covered and refrigerated for up to 4 hours.)
Preheat grill to medium heat; rub kale leaves with remaining oil. Season with fleur de sel. Grill kale, turning once, until crispy, 2 or 3 minutes. Transfer to plate; let cool slightly. Mix capers and parsley into potato mixture; crumble kale over top.
NUTRITIONAL FACTS
PER SERVING (WITH SALAD): about
Calories170, Total fat14 g, Saturated fat2 g, Cholesterol0 mg, Sodium275 mg, Total carbohydrate38 g, Fibre5 g, Protein5 g
Lifestyles Advisor is Health And Lifestyle Magazine. Our main Focus on to Ensure Healthy lifestyle for All Human Being.