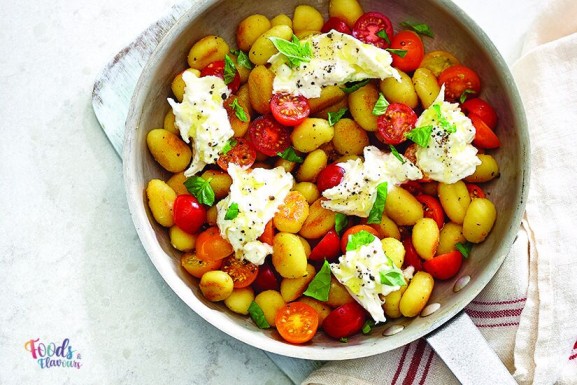 Gnocchi With Cherry Tomatoes & Burrata is the ultimate quick and easy weeknight dinner. Made with these simple, fresh ingredients, this vegetarian Gnocchi With Cherry Tomatoes & Burrata recipe is sure to become a family favorite.
Ingredients
2 tablespoons olive oil , divided
900 g fresh gnocchi
2 cloves garlic , minced
200 g multi-coloured cherry tomatoes , halved
1 225 g ball burrata or fresh mozzarella cheese
1/4 cup coarsely chopped fresh basil
salt and pepper
Directions
In large skillet, heat 1 tbsp of olive oil over medium heat; cook gnocchi, stirring occasionally, until golden, about 8 minutes. Add garlic; cook, stirring, until gnocchi is tender, about 2 minutes. Mix in cherry tomatoes. Season with salt and pepper.
Tear burrata into pieces; scatter over gnocchi. Sprinkle with basil and drizzle with remaining oil.
NUTRITIONAL FACTS
Per serving: about
Iron2 mg, Fibre5 g, Sodium825 mg, Sugars7 g, Protein12 g, Calories450, Total fat18 g, Cholesterol45 mg, Saturated fat8 g, Total carbohydrate56 g
Lifestyles Advisor is Health And Lifestyle Magazine. Our main Focus on to Ensure Healthy lifestyle for All Human Being.