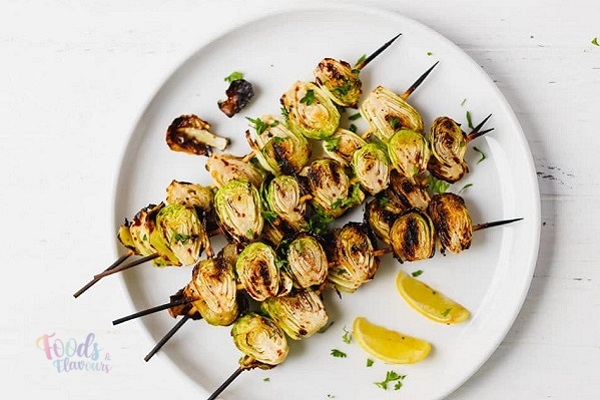 Grilled chicken & Brussels sprouts skewers is so easy to make right at home. This is the best Grilled chicken & Brussels sprouts skewers recipe ever! It tastes just like the restaurant.
Ingredients
675 g boneless skinless chicken thighs , cubed
12 Brussels sprouts , halved
1/2 cup balsamic vinegar
1/3 cup olive oil
2 tablespoons maple syrup
2 cloves garlic , minced
salt and pepper
fresh thyme leaves
Directions
Place chicken in bowl; place Brussels sprouts in separate bowl. In small bowl, combine balsamic vinegar, oil, maple syrup and garlic. Pour half of the mixture over the chicken and remaining mixture over Brussels sprouts, mixing to coat well. Season with salt and pepper.
Preheat grill to medium-high heat. On metal skewers (or wooden skewers soaked in water), thread chicken cubes; repeat with Brussels sprouts on separate skewers.
Place skewers on grill; close lid and cook, turning occasionally to grill-mark all sides, until chicken is cooked through and Brussels sprouts are tender, about 10 minutes. Remove Brussels sprouts from skewers. Garnish chicken and Brussels sprouts with fresh thyme.
NUTRITIONAL FACTS
Per serving: about
Iron3 mg, Fibre4 g, Sodium250 mg, Sugars7 g, Protein39 g, Calories375, Total fat18 g, Cholesterol195 mg, Saturated fat4 g, Total carbohydrate14 g
Lifestyles Advisor is Health And Lifestyle Magazine. Our main Focus on to Ensure Healthy lifestyle for All Human Being.