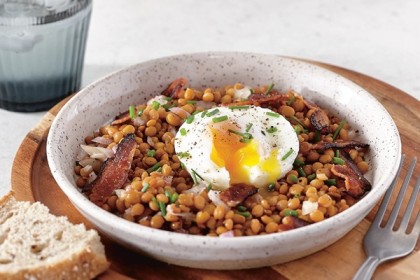 This summer lentil salad with poached eggs is crunchy, fresh, and tangy. It's packed with protein and makes for an easy, satisfying packed lunch or super-quick weeknight dinner. Pre-cooked lentil salad is quick and hearty vegetarian recipe means that supper is on the table in just 30 minutes. Try this hearty, low calorie warm salad. The basil pesto provides a punchy flavour negating the need for a dressing. Lentil Salad With Oven-Poached Eggs
Ingredients
4 eggs
4 slices bacon
2 tablespoons olive oil
1 1/2 tablespoon red wine vinegar
salt and pepper
2 540 ml cans lentils , rinsed and drained
2 shallots , chopped
1/4 cup chopped fresh chives
Pinch pepper
Directions
Preheat oven to 350°F. Add 2 tbsp water to each of 4 muffin cups in muffin pan; break egg into each of the 4 muffin cups. Bake, turning muffin pan halfway through cooking, until whites are firm, 12 to 14 minutes. Let stand for 1 minute.
Meanwhile, in skillet, cook bacon over medium-high heat until crisp, about 4 minutes. Transfer to paper towel-lined plate; chop into large pieces. Set aside.
In large bowl, whisk oil with vinegar; season with salt and pepper. Add bacon, lentils and shallots; toss well. Divide salad among 4 plates. Run knife along edge of each muffin cup. Using two spoons, gently remove eggs from muffin pan. Top each serving with poached egg; sprinkle with chives and pepper.
NUTRITIONAL FACTS
PER SERVING: about
Calories425, Total fat13 g, saturated fat3 g, Cholesterol200 mg, Sodium650 mg, Total carbohydrate45 g, Fibre18 g, Sugars5 g, Protein42 g.
Lifestyles Advisor is Health And Lifestyle Magazine. Our main Focus on to Ensure Healthy lifestyle for All Human Being.