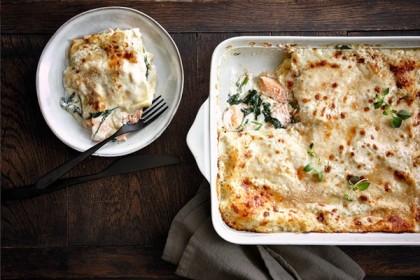 Salmon and spinach lasagna is an absolutely terrific innovation and so delicious with the creamy garlic white sauce. This Salmon and spinach lasagna really easy to make and it's quite different from your everyday lasagna.
Ingredients
1 tablespoon olive oil
2 shallots, chopped
2 (4 ounce) fillets salmon, cut into chunks
1 (16 ounce) container mascarpone cheese
¼ teaspoon saffron (Optional)
1 tablespoon milk, or as needed
1 (8 ounce) package frozen chopped spinach, thawed and drained
1 lemon, juiced
12 no-boil lasagna noodles
salt and ground black pepper to taste
1 (14 ounce) can tomato sauce
½ cup grated Parmesan cheese
1 cup grated mozzarella cheese
Directions
Step 1
Preheat the oven to 410 degrees F (210 degrees C).
Step 2
Heat oil in a skillet over medium heat; stir in shallots. Cook and stir until the shallots have softened and turned translucent, about 5 minutes. Add salmon and saute for 3 minutes. Remove from the heat and flake salmon with a fork.
Step 3
Combine mascarpone cheese and saffron in a bowl; stir in milk until smooth but not too runny. Mix thawed, drained spinach with lemon juice in a separate bowl.
Step 4
Spread a layer of mascarpone mixture in the bottom of a lasagna pan. Top with a layer of lasagna noodles, some salmon mixture, some spinach, salt, pepper, some tomato sauce, and a sprinkling of Parmesan cheese. Repeat layers until ingredients are used up. Sprinkle mozzarella cheese over the top.
Step 5
Bake in the preheated oven until bubbly and cheese has melted, about 30 minutes.
Cook's Notes:
You can use cream cheese in place of mascarpone, but be sure to dilute it with milk until smooth and spreadable.
Use 1 can of salmon in place of fresh salmon, and Swiss cheese instead of mozzarella, if desired.
Finish the lasagna under the broiler for about 5 minutes if you like your cheese golden.
Nutrition Facts
Per Serving:
455 calories; protein 20g; carbohydrates 20.6g; fat 34.5g; cholesterol 98.2mg; sodium 512.6mg. 
Lifestyles Advisor is Health And Lifestyle Magazine. Our main Focus on to Ensure Healthy lifestyle for All Human Being.