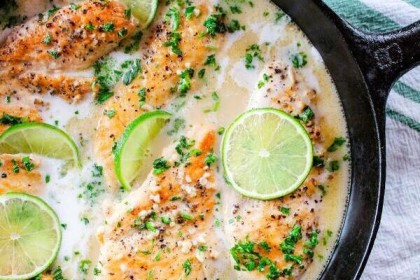 This Coconut-Lime Chicken Curry recipe is a tasty dinner, packed with flavor and color, easy to make while you cook some rice! The light and creamy sauce includes a bright burst of lime flavor you're going to love.This super fast Coconut-Lime Chicken Curry recipe is just Ready in 20 minutes.
Ingredients
4 teaspoons vegetable oil , divided
450 g Boneless skinless chicken breast , cut in bite-size pieces
1/2 lb green bean , trimmed and halved
1 small red onion , quartered
1 sweet red pepper , cut in thin strips
1 tablespoon grated fresh ginger
2 cloves garlic , minced
2 teaspoons curry powder
1/2 teaspoon ground turmeric
1 400 ml can coconut milk
2 tablespoons lime juice
1/4 cup chopped fresh cilantro (optional)
Directions
In large deep skillet, heat 2 tsp of the oil over medium-high heat; cook chicken, stirring occasionally, until golden on all sides, 4 to 5 minutes. Using slotted spoon, transfer to plate.
In same skillet, heat remaining oil over medium heat; cook green beans, onion and red pepper until onion is softened, about 5 minutes. Add ginger, garlic, curry powder and turmeric; cook for 1 minute, stirring.
Return chicken to skillet; add coconut milk and lime juice. Bring to boil; reduce heat and simmer until vegetables are tender and chicken is cooked through, about 5 minutes. Sprinkle cilantro over top, if using.
NUTRITIONAL FACTS
PER SERVING: about
Iron1.5 mg, Fibre2 g, Sodium90 mg, Sugars5 g, Protein33 g, Calories250, Total fat9 g, Cholesterol75 mg, saturated fat5 g, Total carbohydrate9 g
Lifestyles Advisor is Health And Lifestyle Magazine. Our main Focus on to Ensure Healthy lifestyle for All Human Being.