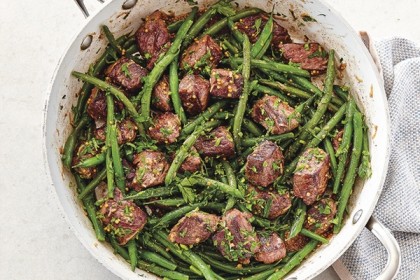 This tasty Garlic pan-fried steak & green beans is super healthy, full of flavor, and ready in just 25 minutes. Garlic pan-fried steak & green beans is so yummy and also nutritious food item.
Ingredients
1 lb green bean , trimmed
1 tablespoon olive oil
560 g top sirloin steaks , cut into 1-inch cubes
salt and pepper
3 tablespoons salted butter
4 cloves garlic, minced
1 tablespoon mustard seeds
1/2 cup chopped fresh parsley
Directions
In large pot of boiling salted water, cook green beans until tender-crisp, 3 to 5 minutes; drain and set aside. In large skillet, heat oil over high heat; cook steak, stirring occasionally, until golden brown, 5 to 8 minutes. Season with salt and pepper.
Reduce heat to low; add butter, garlic, mustard seeds and reserved beans. Cook for 2 minutes, stirring to coat well. Sprinkle with parsley.
NUTRITIONAL FACTS
Per serving: about
Calories355, Total fat18 g, saturated fat8 g, Cholesterol115 mg, Sodium250 mg, Total carbohydrate11 g, Fibre4 g, Sugars4 g, Protein37 g, Iron4 mg.
Lifestyles Advisor is Health And Lifestyle Magazine. Our main Focus on to Ensure Healthy lifestyle for All Human Being.