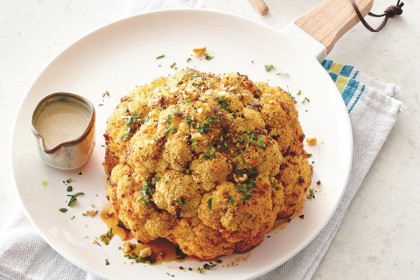 Whole roasted cauliflower, a great vegan alternative for the holidays, special occasions or everyday cooking. Whole roasted cauliflower is a delicious side or main dish.
Ingredients
2 tablespoons olive oil
3 cloves garlic, minced
1 teaspoon smoked paprika
1/2 teaspoon dried oregano
1 cauliflower , stem trimmed and leaves removed
salt and pepper
1/4 cup toasted walnuts , chopped
1/4 cup chopped fresh parsley
Lemon Tahini Sauce:
3 tablespoons tahini paste
1/2 teaspoon grated lemon zest
2 tablespoons lemon juice
1 tablespoon olive oil
salt and pepper
Directions
Preheat oven to 425°F. In small bowl, combine oil, garlic, paprika and oregano. Place cauliflower in centre of ovenproof dish; brush with oil mixture. Season with salt and pepper.
Bake until cauliflower is tender and golden, 40 to 45 minutes. Sprinkle with walnuts and parsley.
Lemon Tahini Sauce
In small bowl, whisk together 1/4 cup lukewarm water, tahini paste, lemon zest and juice, and olive oil. Season with salt and pepper.
Serve with cauliflower.
Test Kitchen Tip: Serve this vegetarian dinner with a side of scrambled eggs and crusty toasted bread.
NUTRITIONAL FACTS
Per serving: about
Fibre5 g, Sodium150 mg, Sugars3 g, Protein5 g, Calories230, Total fat18g, Cholesterol0 mg, Saturated fat3 g, Total carbohydrate12 g.
Lifestyles Advisor is Health And Lifestyle Magazine. Our main Focus on to Ensure Healthy lifestyle for All Human Being.