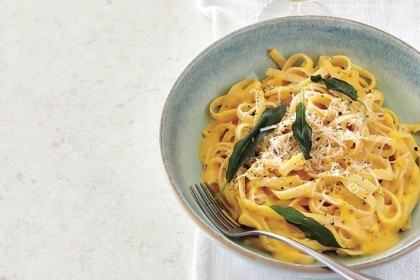 Squash Fettuccine Alfredo is a wonderful delicious food item. Squash Fettuccine Alfredo is a quick, easy and packed with full nutrients! 
Ingredients
2 teaspoons olive oil
1 large shallots , chopped
1 cloves garlic , chopped
1 lb butternut squash , cubed
340 g fettuccine
1/2 cup grated parmesan cheese (approx)
1/4 cup 18% cream
1 teaspoon herbes de Provence
salt and pepper
Directions
In large saucepan, heat oil over medium heat; cook shallot and garlic, stirring, until softened, about 5 minutes. Add squash and 1 cup water; cover and cook until squash is tender, about 10 minutes. Meanwhile, in large pot of boiling salted water, cook pasta until al dente, 8 to 10 minutes. Reserving 1/2 cup of the cooking liquid, drain well.
In food processor, purée vegetables. Add Parmesan, cream and herbes de Provence; blend well. Season with salt and pepper.
In large bowl, combine pasta and squash purée, stirring in enough of the reserved cooking liquid to coat well. Divide pasta among plates; sprinkle with Parmesan. Garnish with sage leaves.
Fried Sage Leaves
In small frying pan, heat olive oil over medium-high heat; cook sage leaves, stirring, until crisp, about 30 seconds. Using fork, carefully transfer sage leaves to paper towel-lined plate.
NUTRITIONAL FACTS
Per serving: about
Calories520, Total fat11 g, saturated fat4 g, Cholesterol20 mg, Sodium250 mg, Total carbohydrate87 g, Fibre6 g, Sugars6 g, Protein18 g, Iron4 mg
Lifestyles Advisor is Health And Lifestyle Magazine. Our main Focus on to Ensure Healthy lifestyle for All Human Being.