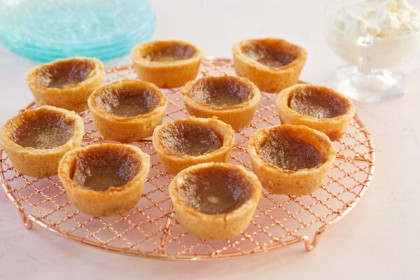 Butter Tarts are a classic Canadian sweet treat. A butter tarts are a small pastry tart filled with a deliciously gooey semi-solid syrup made up of butter, sugar, and eggs. 
Ingredients
1 ½ cups packed brown sugar
2 eggs
½ cup butter
2 cups raisins
2 tablespoons heavy cream
1 cup chopped walnuts
30 (2 inch) unbaked tart shells
Directions
Step 1
Preheat oven to 325 degrees F (170 degrees C).
Step 2
Cream the butter, sugar and eggs well. Add remaining ingredients and mix thoroughly.
Step 3
Pour batter into tart shells, no more than half full. Bake for 20 – 25 minutes. Watch carefully!!–they'll burn quickly. Filling will keep in the refrigerator for 2 weeks or so. Liquid coffee creamer can be used for cream. Use any good pie pastry for shells.

Nutrition Facts
Per Serving:
641 calories; protein 7.9g; carbohydrates 85.5g; fat 31.5g; cholesterol 54.7mg; sodium 256.2mg.
Lifestyles Advisor is Health And Lifestyle Magazine. Our main Focus on to Ensure Healthy lifestyle for All Human Being.