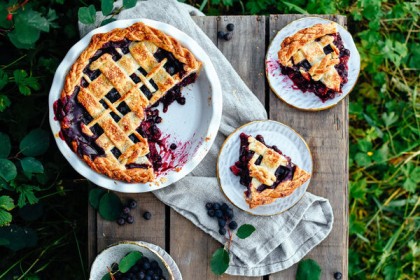 This is the better way to enjoy the best of summer's bounty than turning fresh picked Saskatoon berries and rhubarb into a sweet, summertime pie. This Saskatoon Rhubarb Pie Recipe is super healthy and delicious.
Ingredients
Filling
4 cups Saskatoon berries
2 cups rhubard (fresh or frozen), chopped
1 cup granulated sugar
¼ cup all-purpose flour (add 1 Tbsp extra flour if using frozen fruit)
Crust
1 ½ cups all-purpose flour
½ cup whole-wheat flour
½ tsp salt
⅓ cup butter, chilled
⅓ cup shortening
1 small egg
½ tsp white vinegar
Cold water
Directions:
Filling
1. Filling: In a large bowl, combine all of the ingredients. Set aside until ready to use.
Crust
1. Crust: Preheat oven to 350˚F.
2. In a large bowl, combine flours and salt. Using a pastry cutter or two knives, cut in butter until mixture resembles small peas.
3. Add shortening and stir until chunks of shortening are dispersed throughout. Set aside.
4. In a liquid measuring cup, combine egg and vinegar. Fill measuring cup with cold water until it reaches the 1/2-cup mark. Whisk to combine.
5. Add the wet ingredients to the dry ingredients and, using a pastry cutter, work as little as possible just to combine. Divide mixture in half and form two equal balls (Don't overwork the pastry.)
6. On a flour-dusted work surface, roll out one portion of dough into a circle 11 inches in diameter.
7. Roll out remaining dough into a 10-inch circle. Using a sharp knife, cut some artistic air vents in centre.
8. Pour prepared filling into bottom pie shell. Top with second crust. Trim overhanging dough and crimp edges to seal. 9. Bake in preheated oven for 10 minutes. Reduce heat to 300˚F and bake for another 45 to 60 minutes, until filling is thick and bubbly in the middle and crust is golden brown.
Lifestyles Advisor is Health And Lifestyle Magazine. Our main Focus on to Ensure Healthy lifestyle for All Human Being.