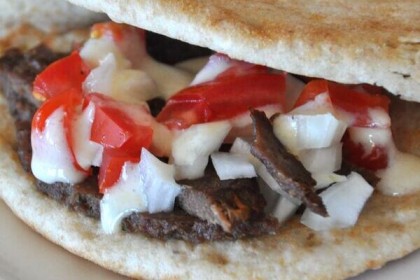 Nova Scotia donair kebabs are a Canadian staple. Not to be confused with gyros, The Original Donair From the East Coast of Canada Donair has a vastly different flavor. This Original Donair From the East Coast of Canada is super tasty and super flavorful.
Ingredients
1 pound ground beef
1 teaspoon ground black pepper
1 teaspoon onion powder
1 teaspoon garlic powder
1 teaspoon salt
1 teaspoon paprika
2 teaspoons cayenne pepper
1 teaspoon dried oregano
1 (12 ounce) can evaporated milk
½ cup white sugar
¼ cup white vinegar, or to taste
6 large pita bread rounds
Directions
Step 1
In a bowl, thoroughly mix together the ground beef, black pepper, onion powder, garlic powder, salt, paprika, cayenne pepper, and oregano. Pack the spiced meat into a thick loaf shape, cover, and let rest in the refrigerator overnight.
Step 2
Preheat oven to 350 degrees F (175 degrees C).
Step 3
Place the meat loaf onto a baking sheet, and bake for 1 hour, flipping the loaf over halfway through cooking. Allow the meat loaf to cool so it holds together for slicing.
Step 4
Mix together the evaporated milk and white sugar in a bowl, stirring until the sugar is dissolved, and then add the vinegar by teaspoons, mixing together after each addition, to taste. Refrigerate the sauce until serving.
Step 5
Slice the meat loaf into 1/4-inch thick slices, and brown the slices in a skillet over medium heat until both sides are brown and crisp, about 5 minutes per side.
Step 6
Sprinkle the pita bread rounds with a little water, and press each onto a heated skillet to warm up.
Step 7
To serve, place several slices of meat into a warmed pita bread, and spoon about 2 tablespoons of sauce over the meat. Roll the pita bread into a cone shape, wrap in aluminum foil to keep the sauce from dripping out, and serve.
Nutrition Facts
Per Serving:
450 calories; protein 22.4g; carbohydrates 57.3g; fat 14.3g; cholesterol 63.7mg; sodium 813.6mg.
Lifestyles Advisor is Health And Lifestyle Magazine. Our main Focus on to Ensure Healthy lifestyle for All Human Being.