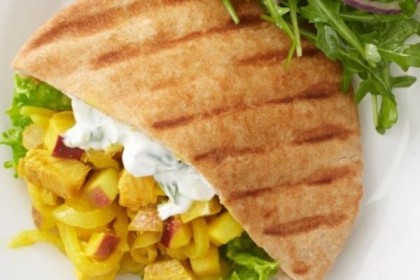 Make your launch more delicious with this mouth-watering apple curry turkey pita recipe. It's quick, easy and packed with nutrients! This apple curry turkey pita recipe is a good one alternative choice too."
Ingredients
• 2 tablespoons olive oil
• 1 cup sliced onion
• 2 tablespoons lemon juice
• 1/2 pound cooked turkey, cut into chunks
• 1 tablespoon curry powder, or to taste
• 1 medium apple, cored and thinly sliced
• 3 pita bread rounds
• 1/2 cup plain yogurt
Directions
1. Heat oil in a skillet over medium-high heat. Stir in onion and lemon juice. Cook until onion is tender. Mix in turkey, season with curry powder and continue cooking until heated through.
2. Remove from heat. Stir in apple. Stuff pitas with the mixture. Drizzle with yogurt to serve.

Nutrition Facts
Per Serving:
428 calories; protein 31.4g; carbohydrates 49.9g; fat 11.3g; cholesterol 65.3mg; sodium 393.6mg. 
Lifestyles Advisor is Health And Lifestyle Magazine. Our main Focus on to Ensure Healthy lifestyle for All Human Being.