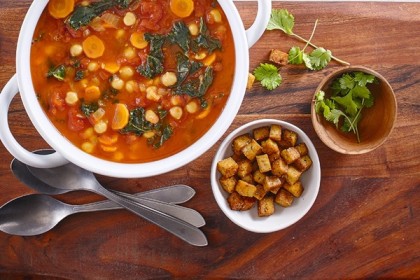 This Moroccan-Style Soup with Smoked Tofu Croutons is a delicious and easy soup which takes little time. This tasty Moroccan-Style Soup with Smoked Tofu Croutons is super healthy, full of flavor, and ready in just 30 minutes!
INGREDIENTS
2 teaspoons olive oil
1 onions, chopped
1 carrot , thinly sliced
1 tablespoon tomato paste
1 teaspoon ground cumin
1/2 teaspoon turmeric
1/2 teaspoon ground coriander
1/4 teaspoon cinnamon
1 796 ml can whole tomatoes
2 cups sodium-reduced vegetable broth
1 540 ml chickpeas , rinsed and drained
2 cups shredded kale leaves
salt and pepper
2 tablespoons lemon juice
Smoked Tofu Croutons (recipe, this page):
chopped fresh cilantro
Directions
In large saucepan, heat oil over medium heat; cook onion and carrot, stirring occasionally, until onion is softened, about 5 minutes. Add garlic, tomato paste, cumin, turmeric, coriander and cinnamon; cook, stirring, for 1 minute.
Add tomatoes, breaking up with wooden spoon.
Pour in broth; bring to boil. Reduce heat; simmer until carrot is tender, about 10 minutes; stir in chickpeas and kale. Season with salt and pepper. Cook, stirring occasionally, until kale is wilted, about 3 minutes.
Divide hot soup among bowls. Drizzle with lemon juice; top with Smoked Tofu Croutons; sprinkle with cilantro.
Smoked Tofu Croutons
Preheat oven to 400°F. Line baking sheet with parchment paper. Drain 1 pkg (210 g) smoked tofu; pat dry with paper towel and cut into 1/2-inch cubes. In bowl, combine tofu, 1 tbsp olive oil and 1 tsp paprika. Season with salt and pepper. Transfer to prepared baking sheet; bake, stirring halfway through, until tofu is golden, about 15 minutes.
NUTRITIONAL FACTS
PER SERVING: about
Iron7 mg, Fibre10 g, Sodium900 mg, Sugars16 g, Protein10 g, Calories350, Total fat14 g, Cholesterol0 mg, Saturated fat1 g, Total carbohydrate45 g.
Lifestyles Advisor is Health And Lifestyle Magazine. Our main Focus on to Ensure Healthy lifestyle for All Human Being.