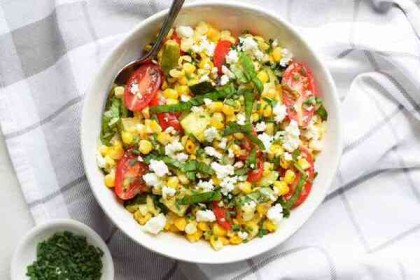 This Grilled Corn Salad recipe is perfect for summer grilling season and makes for a great side dish that everyone will love! In summer time, this Grilled Corn Salad recipe is the perfect side for any party. It's quick, easy, yummy and packed with nutrients! 
Ingredients
6 ears freshly shucked corn
1 green pepper, diced
2 Roma (plum) tomatoes, diced
¼ cup diced red onion
½ bunch fresh cilantro, chopped, or more to taste
2 teaspoons olive oil, or to taste
salt and ground black pepper to taste
Directions
Step 1
Preheat an outdoor grill for medium heat; lightly oil the grate.
Step 2
Cook the corn on the preheated grill, turning occasionally, until the corn is tender and specks of black appear, about 10 minutes; set aside until just cool enough to handle. Slice the kernels off of the cob and place into a bowl.
Step 3
Combine the warm corn kernels with the green pepper, diced tomato, onion, cilantro, and olive oil. Season with salt and pepper; toss until evenly mixed. Set aside for at least 30 minutes to allow flavors to blend before serving.

Nutrition Facts
Per Serving:
103 calories; protein 3.4g; carbohydrates 19.7g; fat 2.8g; sodium 43.4mg.
Lifestyles Advisor is Health And Lifestyle Magazine. Our main Focus on to Ensure Healthy lifestyle for All Human Being.