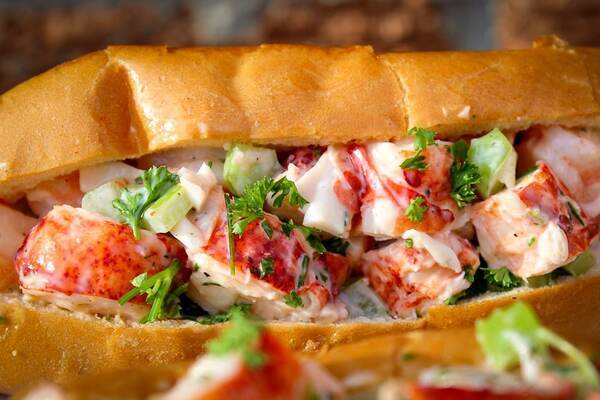 This Nova Scotia Lobster Roll is a wonderful summer or winter treat and makes a fancy luncheon to impress your friends. And if you're looking for the recipe to a successful summer, you've found it. This tasty Nova Scotia Lobster Roll is super healthy, full of flavor, and ready in just 15 minutes! Let's Enjoy Nova Scotia Lobster Roll Recipe.
Ingredients
1 tablespoon butter, softened
4 roll (blank)s hot dog buns or kaiser rolls, split
4 large leaf (blank)s lettuce leaves
1 ½ pounds cooked and cubed lobster meat
2 tablespoons mayonnaise
1 teaspoon fresh lime juice
1 dash hot pepper sauce (e.g. Tabasco™)
2 medium (4-1/8″ long)s green onions, chopped
1 stalk celery, finely chopped
1 pinch salt and pepper to taste
1 pinch dried basil, parsley or tarragon
Directions:
Step 1
Lightly butter the insides of the buns or rolls and line with lettuce leaves. Set aside.
Step 2
In a medium bowl, stir together the mayonnaise, lime juice, hot pepper sauce, salt and pepper until well blended. Mix in the green onion and celery, then lightly mix in the lobster so it just gets coated without falling apart.
Step 3
Stuff the lobster filling into the buns and sprinkle parsley, basil or tarragon lightly over the filling.

Nutrition Facts
Per Serving:
369 calories; protein 39.5g; carbohydrates 25.2g; fat 11.3g; cholesterol 132.8mg; sodium 963.7mg.