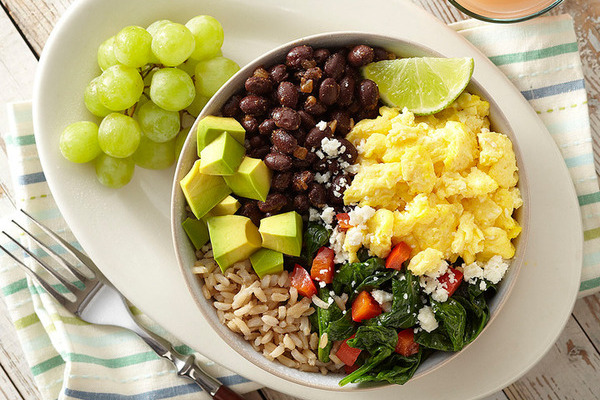 Make your breakfast a savory one and prep these delicious black bean breakfast bowls for the week! Black bean breakfast bowls is a very quick and healthy breakfast if you're trying to avoid carbs.
Ingredients
2 tablespoons olive oil
4 eggs, beaten
1 (15 ounce) can black beans, drained and rinsed
1 avocado, peeled and sliced
¼ cup salsa
salt and ground black pepper to taste
Directions
Step 1
Heat olive oil in a small pan over medium heat. Cook and stir eggs until eggs are set, 3 to 5 minutes.
Step 2
Place black beans in a microwave-safe bowl. Heat on High in the microwave until warm, about 1 minute.
Step 3
Divide warmed black beans between two bowls.
Step 4
Top each bowl with scrambled eggs, avocado, and salsa. Season with salt and black pepper.
Nutrition Facts
Per Serving:
625 calories; protein 27.9g; carbohydrates 46.6g; fat 38.8g; cholesterol 372mg; sodium 1157.6mg.
Lifestyles Advisor is Health And Lifestyle Magazine. Our main Focus on to Ensure Healthy lifestyle for All Human Being.