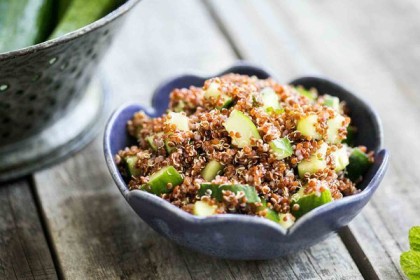 This Grape and Cucumber & Almond Curry Salad is a fantastic recipe!! The sweetness of the red grapes compliments the curry perfectly and the almonds provide a nice crunch. This Grape and Cucumber & Almond Curry Salad is easy to cook, but tasty.
INGREDIENTS
2 teaspoons vegetable oil
1/2 cup almonds
1/2 tablespoon curry powder
1/2 teaspoon garlic powder
3 tablespoons olive oil
2 tablespoons lemon juice
3 cups mache (lamb's lettuce)
1 cup red grapes , halved
½ cup diced cucumber
salt and pepper
Directions
Preheat oven to 425°F. In bowl, combine vegetable oil, almonds, curry and garlic powders. Spread in single layer on parchment paper-lined baking sheet; bake until almonds are lightly browned, about 5 minutes. Let cool; chop coarsely.
In large bowl, combine olive oil and lemon juice. Add lettuce, grapes, cucumber and chopped almonds; mix to coat well. Season with salt and pepper.
NUTRITIONAL FACTS
PER SERVING: about
Iron1 mg, Fibre2 g, Sodium150 mg, Sugars6 g, Protein4 g, Calories175, Total fat14 g, Cholesterol0 mg, Saturated fat2 g, Total carbohydrate8 g.
Lifestyles Advisor is Health And Lifestyle Magazine. Our main Focus on to Ensure Healthy lifestyle for All Human Being.