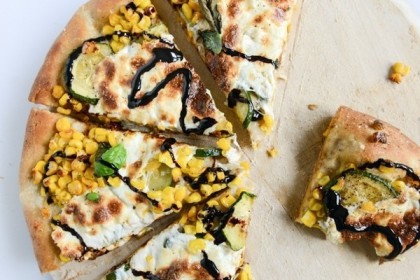 This Corn & zucchini pizza recipe is so easy to make and completely ready in 25 minutes! This Corn & zucchini pizza is delicious and pretty easy meal to fix for your family.
Ingredients
2 225 g balls of pizza dough
3 cups shredded mozzarella cheese
1 zucchini , thinly sliced lengthwise
2 cobs of corn , kernels removed
2 tablespoons finely chopped fresh rosemary
salt and pepper
Directions:
Preheat oven to 450°F. Sprinkle flour or cornmeal over baking sheet. On lightly floured work surface, press or roll each ball of dough into 10-inch round. Transfer to prepared pan.
Top with cheese, zucchini and corn; sprinkle with rosemary. Season with salt and pepper. Bake until crust is golden brown, about 15 minutes.
Test Kitchen Tip: Kick up the heat by drizzling chili oil over the pizza.
NUTRITIONAL FACTS
PER SERVING (WITH SALAD): about
Total fat18 g, saturated fat10 g, Cholesterol55 mg, Sodium1, 100 mg, Total carbohydrate72 g, Fibre5 g, Sugars9 g, Protein29 g, Iron3 mg.
Lifestyles Advisor is Health And Lifestyle Magazine. Our main Focus on to Ensure Healthy lifestyle for All Human Being.