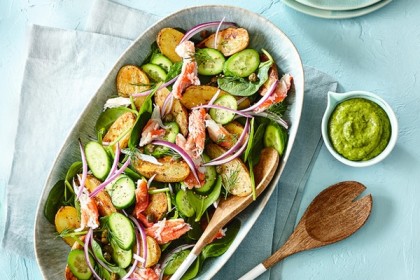 This Potato & crab salad with avocado dressing recipe is so easy to make and completely ready in 40 minutes! This beautiful Potato & crab salad is delicious, tasty and nutritious!
Ingredients
1 1/2 lb fingerling potatoes , halved lengthwise
1 tablespoon olive oil
salt and pepper
2 cups packed baby spinach
1/4 cup thinly sliced red onion
2 mini cucumbers , sliced
2 tablespoons capers
1 cup shredded cooked crabmeat
fresh dill sprigs
1 teaspoon mustard seeds (optional)
Avocado Dressing:
1 avocado , peeled and pitted
1/2 cup chopped fresh dill
1/2 cup chopped fresh parsley
1 clove garlic
1/4 cup olive oil
2 tablespoons cider vinegar
2 teaspoons grated lemon zest
2 tablespoons lemon juice
salt and pepper
Directions
Preheat oven to 400°F. Place potatoes on foil-lined baking sheet; drizzle with olive oil and season with salt and pepper; toss well. Arrange potatoes cut side down on baking sheet; bake, turning once, until tender and golden, 20 to 25 minutes; let cool.
Avocado Dressing
Meanwhile, in food processor, pulse together avocado, dill, parsley, garlic, olive oil, 1⁄4 cup water, vinegar, and lemon zest and juice until smooth; season with salt and pepper. (Make-ahead: Can be refrigerated for up to 8 hours.)
Arrange spinach on serving plate; top with roasted potatoes, onion, cucumbers and capers; season with salt and pepper. Top with crab meat. Garnish with dill, and mustard seeds (if using). Serve with dressing.
NUTRITIONAL FACTS
PER SERVING (WITH SALAD): about
Calories425, Total fat24 g, saturated fat4 g, Cholesterol35 mg, Sodium350 mg, Total carbohydrate40 g, Fibre10 g, Protein12 g
Lifestyles Advisor is Health And Lifestyle Magazine. Our main Focus on to Ensure Healthy lifestyle for All Human Being.