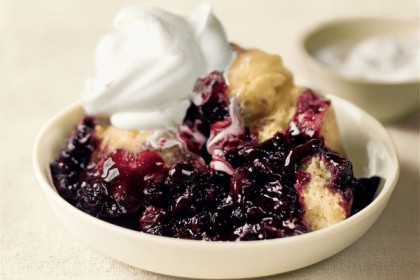 Blueberry Grunt is the best summer simple dessert recipe, satisfying and bring out the best in the season's bounty. That's why this steamed East Coast treat is the ultimate summer indulgence. Blueberry Grunt recipe is very healthy ,easy and super quick recipe.
Ingredients:
4 cups (600g) frozen blueberries
½ cup sugar
1 Tbsp lemon zest
1 Tbsp lemon juice
For the Dumplings:
1 ¾ cup flour
3 Tbsp sugar
2 tsp baking powder
½ tsp salt
¼ cup shortening
1 cup milk
For the Maple Whipped Cream:
1 cup 35% whipping cream
3 Tbsp maple syrup
1 mint sprig for garnish
Directions:
1. In a large skillet or wide saucepan, combine and stir blueberries, sugar, lemon juice and zest. Bring to a boil. Reduce heat to medium-low and simmer until berries soften, about 3 minutes.
2. Make dumplings by whisking together flour, sugar, baking powder and salt in large bowl. Add shortening and rub in with fingers or a pastry cutter until the mixture looks like fine meal. Add milk and stir just until combined.
3. Drop 1/4 cup spoonfuls of dumpling batter on top of blueberry mixture in pan. Cover and reduce heat to low. Simmer until dumplings have steamed and are firm to the touch, 10 to 15 minutes.
4. While dumplings are steaming, make maple cream. Combine cream and maple syrup in a large bowl. Using an electric mixer, beat until cream is stiff.
5. Scoop blueberry grunt into bowls and serve topped with maple cream.
Lifestyles Advisor is Health And Lifestyle Magazine. Our main Focus on to Ensure Healthy lifestyle for All Human Being.