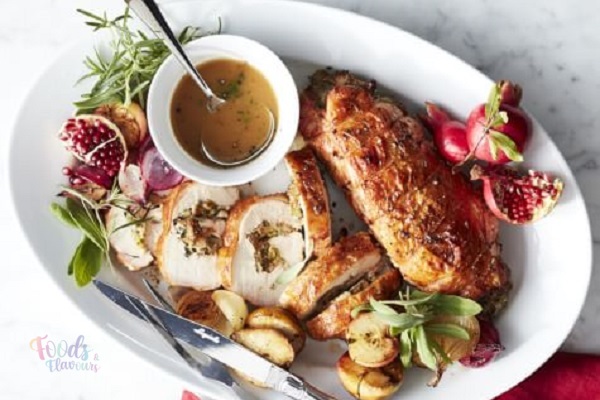 Make this Festive Stuffed Turkey Breast Roll recipe for the holiday season. Savoury stuffing rolled inside a tender turkey breast.  Easy and ready in 2 hours! Slice up this Festive Stuffed Turkey Breast Roll and serve it on a platter to reveal the bread and celery stuffing inside. This is an elegant way to serve turkey when you just have a few people together for Christmas or Thanksgiving.
Ingredients
Stuffing:
1/2 cup milk
1/2 cup cubed day-old bread
225 g bacon
1 cup finely chopped Spanish onion
1 cup chopped kale leaves
1 cup chopped spinach
450 g ground chicken
1/2 cup chopped dried apricots
1/2 cup dried cranberries , chopped
1/4 cup chopped fresh parsley
1/4 cup chopped fresh chives
2 cloves garlic , chopped
2 tablespoons grainy mustard
salt and pepper
Turkey:
1 boneless skin-on turkey breast (about 2 kg)
5 tablespoons salted butter , divided
2 tablespoons olive oil
2 spanish onions , cut into thick slices
1 cup dry white wine
2 cups sodium-reduced chicken broth
1 fresh sage leaf
salt and pepper
Directions
Stuffing
In large bowl, combine milk and bread; let stand until bread is softened, about 5 minutes. In large skillet, cook bacon over medium heat, stirring occasionally, until crisp, about 6 minutes. Transfer to paper towel-lined plate; let cool slightly. Chop bacon and add to bread mixture.
Remove all but 2 tsp bacon fat from skillet. Cook onion over medium heat until tender, about 5 minutes. Add kale and spinach; cook, stirring often, until softened, about 2 minutes. Drain well; add to bowl. Mix in chicken, apricots, cranberries, parsley, chives, garlic and mustard. Season with salt and pepper.
Turkey
On cutting board, place turkey breast between two pieces of plastic wrap. With mallet or heavy skillet, flatten to even thickness. Season with salt and pepper. Discard plastic wrap.
On double layer of plastic wrap, arrange six 18-inch lengths of kitchen string, 2 inches apart and parallel to each other. Place one 24-inch length of string in centre, perpendicular to other strings. Place turkey on strings. Spoon stuffing down centre of turkey breast; using plastic wrap, fold turkey breast over to enclose stuffing. Tie up kitchen strings to secure roll; discard plastic wrap.
Preheat oven to 350°F. In large skillet, heat 4 tbsp of the butter and the oil over medium-high heat (refrigerate remaining butter). Place stuffed turkey breast in skillet; turn occasionally to brown all over. Transfer to large plate. In same skillet, cook onion slices for 1 minute, stirring; stir in wine. Cook until liquid is reduced by half; pour into roasting pan or baking dish. Stir in broth. Place turkey in roasting pan; roast in centre of oven until instant-read thermometer inserted in centre of stuffing reaches 165°F, about 1 1⁄2 hours. Transfer turkey to cutting board; tent loosely with foil. Let stand for 10 minutes. Remove strings; slice turkey breast.
Meanwhile, pour cooking juices into saucepan; bring to boil. Reduce heat to medium. Add sage leaf; cook for 10 minutes. Remove from heat; discard sage leaf. Cut reserved butter into small cubes; stir into cooking juices. Season with salt and pepper. Serve turkey breast with cooking juices.
NUTRITIONAL FACTS
Per serving: about:
Iron3 mg, Fibre3 g, Sodium675 mg, Sugars18 g, Protein78 g, Calories600, Total fat21 g, Cholesterol240 mg, Saturated fat9 g, Total carbohydrate25 g
Lifestyles Advisor is Health And Lifestyle Magazine. Our main Focus on to Ensure Healthy lifestyle for All Human Being.