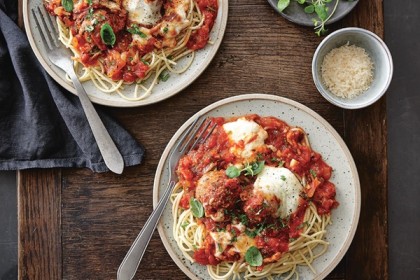 You'll love these juicy and tender style baked meatball in your favorite marinara sauce. Super simple and surprisingly quick, these flavorful meatball will be on your plate in under an hour.
Ingredients
250 g mild Italian sausages
500 g lean ground veal
1/4 cup dried bread crumbs
1/4 cup chopped fresh parsley
3 tablespoons chopped fresh oregano
3 tablespoons chopped fresh basil
1 Egg
2 cloves garlic, minced
Marinara Sauce:
2 tablespoons olive oil
1 small onion , finely chopped
3 garlic cloves , minced
1 bay leaf
2 teaspoons dried Italian herb
1 796 ml can whole Italian tomatoes
2 cups baby spinach , coarsely chopped
1 tablespoon balsamic vinegar
salt and pepper
125 g fresh mozzarella cheese , sliced
1 cup shredded mozzarella cheese
2 teaspoons grated Parmesan cheese
Directions
Preheat oven to 400°F. Line a baking sheet with parchment paper. Remove casing from sausages. Crumble susage meat into large bowl; mix in veal, bread crumbs, parsley, oregano, basil, egg and garlic. With wet hands, shape mixture into 1-inch balls.
Transfer to prepared baking sheet; bake, turning once halfway through cooking time, until meatballs are lightly browned and no longer pink inside, 15 to 20 minutes.
Marinara Sauce
Meanwhile, in large skillet, heat oil over medium-high heat; cook onion, stirring, until softened, about 5 minutes. Add garlic, bay leaf and Italian herbs. Mix in tomatoes, crushing with back of spoon. Bring to boil; reduce heat and simmer until sauce has thickened, about 10 minutes. Season with salt and pepper. Remove and discard bay leaf.
Transfer meatballs and sauce to greased 13- x 9-inch baking dish. Top with mozzarella and Parmesan. (Make-ahead: Can be stored in airtight container and frozen for up to 3 months. Thaw in refrigerator overnight and increase cooking time by 10 minutes.)
Bake until bubbly and lightly browned on top, about 10 minutes. Broil until cheese is golden brown, about 2 minutes. Sprinkle with pepper.
Test Kitchen Tip: Serve the meatballs with traditional spaghetti or your favourite pasta, and garnish with fresh basil.
NUTRITIONAL FACTS
PER SERVING: about
Iron3 mg, Fibre5 g, Sodium750 mg, Sugars5 g, Protein33 g, Calories450, Total fat28 g, Cholesterol130 mg, Saturated fat11 g, Total carbohydrate14 g.
Lifestyles Advisor is Health And Lifestyle Magazine. Our main Focus on to Ensure Healthy lifestyle for All Human Being.