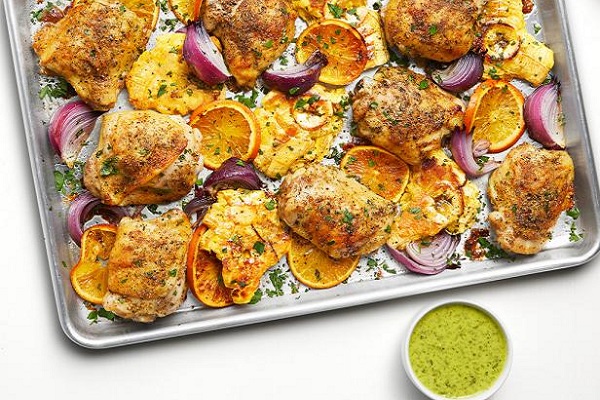 This sheet-pan chicken mojo is the juiciest and most flavorful chicken and is a meal prep dream. This sheet-pan chicken mojo is the perfect quick and easy weeknight meal. It is marinated with a flavorful mojo garlic.
Ingredients
4 skin-on chicken legs (about 1 kg total)
2 onions , cut into wedges
Mojo Sauce (recipe, on right)
1 orange , sliced
salt and pepper
2 tablespoons chopped fresh parsley
1 lime , cut into wedges
Directions
Place chicken and onions in large shallow dish. Pour half of the Mojo Sauce over top, turning to coat well. Cover and refrigerate for 1 hour.
Preheat oven to 400°F. Transfer chicken and onions to foil-lined baking sheet; add orange slices to baking sheet. Season with salt and pepper. Drizzle with remaining sauce from dish; bake, basting with pan juices occasionally, until cooked through, 40 to 50 minutes.
Sprinkle parsley over top. Serve with remaining Mojo Sauce and lime wedges.
Mojo Sauce
In blender or using hand mixer, combine 1⁄3 cup each orange juice, lime juice and grapefruit juice, 4 cloves garlic, 1⁄2 cup chopped fresh parsley, zest of 1 lime, 2 tsp dried oregano 1 tsp ground cumin, and salt and pepper to taste. Add 1⁄2 cup olive oil in thin drizzle until sauce is thickened but not puréed. (Make-ahead: Can be covered and refrigerated for up to 2 days.) Makes about 1 1⁄2 cups.
NUTRITIONAL FACTS
Per serving: about:
Calories795, Total fat56 g, saturated fat12 g, Cholesterol290 mg, Sodium769 mg, Total carbohydrate20 g, Fibre3 g, Sugars11 g, Protein53 g, Iron4 mg.
Lifestyles Advisor is Health And Lifestyle Magazine. Our main Focus on to Ensure Healthy lifestyle for All Human Being.