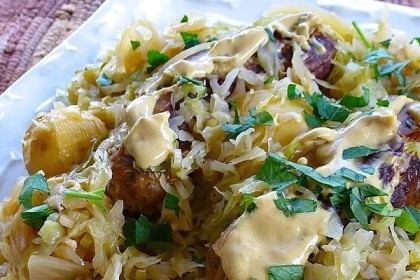 This Chicken Apple Sausage with Cabbage is a great cold weather meal, although it's delicious anytime of the year. This delicious Chicken Apple Sausage with Cabbage combines the flavours of Savoy cabbage, sweet onion and celery, sweetened with apples.
Ingredients
1 ½ teaspoons butter
1 teaspoon olive oil
4 links chicken and apple sausage
1 onion, sliced
salt and freshly ground black pepper to taste
3 cloves garlic, crushed
3 cups apple cider or apple juice
1 pound small Yukon Gold potatoes, scrubbed but not peeled
1 ½ pounds finely shredded green cabbage
salt and freshly ground black pepper to taste
2 tablespoons Dijon mustard, for garnish
2 tablespoons chopped fresh parsley, for garnish
Directions
Step 1
Combine butter and olive oil in a Dutch oven over medium heat; add sausages and cook until browned on all sides, 6 to 8 minutes.
Step 2
Stir onion, pinch of salt, and pinch of pepper in with the sausages. Cook and stir until onions are slightly translucent and caramelized, about 5 minutes.
Step 3
Stir garlic into sausage mixture; cook and stir for 30 seconds.
Step 4
Pour apple cider into sausage mixture; increase heat to medium-high and stir in potatoes. Bring to a simmer
Step 5
Pour cabbage over top of sausage mixture and reduce heat to medium-low. Cover and simmer until potatoes are tender, 20 to 25 minutes. Remove sausages and potatoes from the Dutch oven and set aside.
Step 6
Increase heat to high, simmer liquid until thick and reduced by half, about 5 minutes.
Step 7
Return potatoes and sausages to the Dutch oven and remove from heat. Season with salt and pepper to taste. Garnish with mustard and parsley.
Nutrition Facts
Per Serving:
441 calories; protein 17.7g; carbohydrates 63.5g; fat 14.1g; cholesterol 108mg; sodium 706.2mg. 
Lifestyles Advisor is Health And Lifestyle Magazine. Our main Focus on to Ensure Healthy lifestyle for All Human Being.