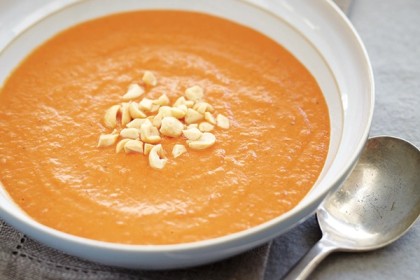 Spicy Moroccan Tomato soup is a wonderful delicious spicy food item. This Spicy Moroccan Tomato Soup is very easy and quick & packed with full nutrients! 
Ingredients
2 onions , chopped
2 cloves garlic , chopped
2 tablespoons packed brown sugar
2 teaspoons chili powder
1 teaspoon ground cumin
1/2 teaspoon pepper
1/4 teaspoon salt
1/4 teaspoon cayenne pepper
1 pinch cinnamon
1 796 ml can diced tomatoes
2 cups water
1/4 cup tomato paste
1 tablespoon red wine vinegar
3/4 cups smooth peanut butter
Chopped peanuts , for garnish
Directions
In slow cooker, combine onions, garlic, sugar, chili powder, cumin, pepper, salt, cayenne pepper and cinnamon. Stir in tomatoes, water, tomato paste and vinegar. Cover and cook on low for 5 to 8 hours. Add peanut butter; using immersion blender, pureé soup until smooth. Garnish with chopped peanuts.
NUTRITIONAL FACTS
Per serving: about:
Calories261, Total fat17 g, Saturated fat3 g, Cholesterol0 mg, Sodium440 mg, Total carbohydrate 23g  , Fibre4 g,Sugars14 g,Protein10 g.
Lifestyles Advisor is Health And Lifestyle Magazine. Our main Focus on to Ensure Healthy lifestyle for All Human Being.