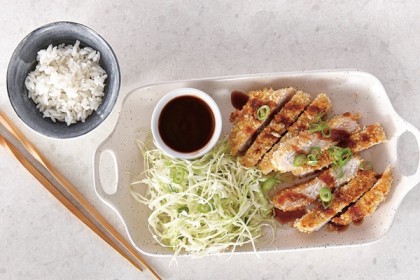 You'll love these Japanese-style breaded pork recipe. Super simple and surprisingly quick, these flavorful Japanese-style breaded pork will be on your plate in under 35 minutes.
Ingredients
1 tablespoon vegetable oil
1 cup panko bread crumbs
1/2 cup all-purpose flour
2 eggs , lightly beaten
4 boneless pork loin chops (about 500 g total) , each about 1/2-inch thick
salt and pepper
2 green onions (green parts only), chopped
Tonkatsu Sauce:
1/4 cup ketchup
1/4 cup Worcestershire sauce
2 teaspoons sodium-reduced soy sauce
1 teaspoon granulated sugar
Directions
In skillet, stir together oil and bread crumbs; cook over medium heat, stirring, until bread crumbs are golden brown, about 3 minutes. Transfer bread crumbs to shallow plate. Place flour on separate plate; place eggs in wide shallow bowl.
Season pork chops with salt and pepper. Dredge in flour, then dip into eggs, shaking to remove excess. Press into bread crumbs, turning to coat both sides.
Preheat oven to 425°F. Line a baking sheet with parchment paper. Place pork chops on prepared baking sheet. Bake until pork chops are golden brown and no longer pink inside, about 15 minutes.
Tonkatsu Sauce
In bowl, combine ketchup, Worcestershire sauce, soy sauce and sugar; mix until sugar is dissolved.
Cut pork into slices; arrange on 4 plates. Drizzle with sauce. Sprinkle green onions over top. Serve with remaining sauce.
DID YOU KNOW?
This recipe is a twist on tonkatsu, a Japanese dish made of fried breaded pork chops. We opted to bake the pork chops for a less oily version.
NUTRITIONAL FACTS
PER SERVING: about
Iron3.5 mg
Fibre1 g
Sodium570 mg, Sugars6 g, Protein34 g, Calories375, Total fat13 g, Cholesterol175 mg, Saturated fat3 g, Total carbohydrate31 g
Lifestyles Advisor is Health And Lifestyle Magazine. Our main Focus on to Ensure Healthy lifestyle for All Human Being.